The Equinox: British Journal of Thelema VII Issue 11 (pdf)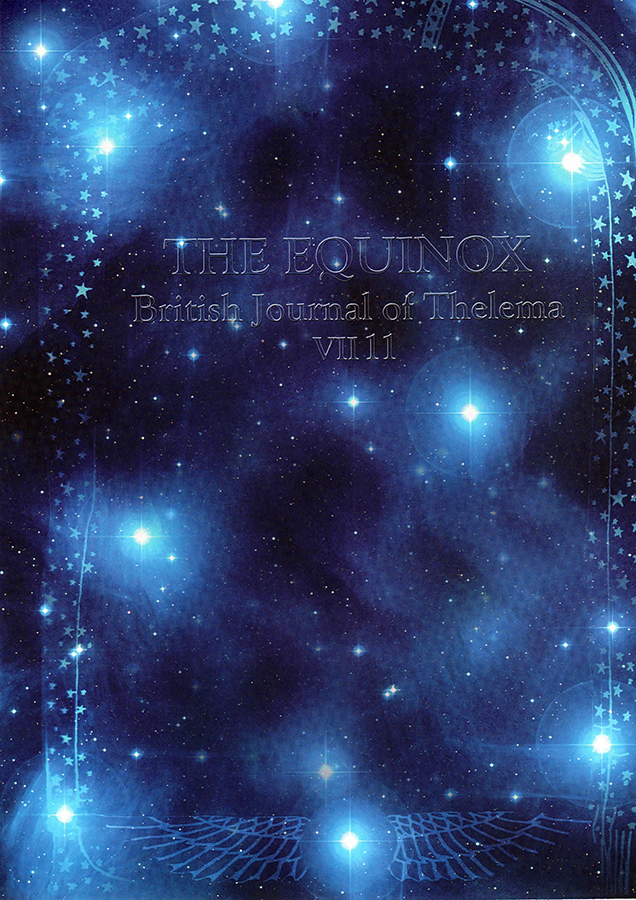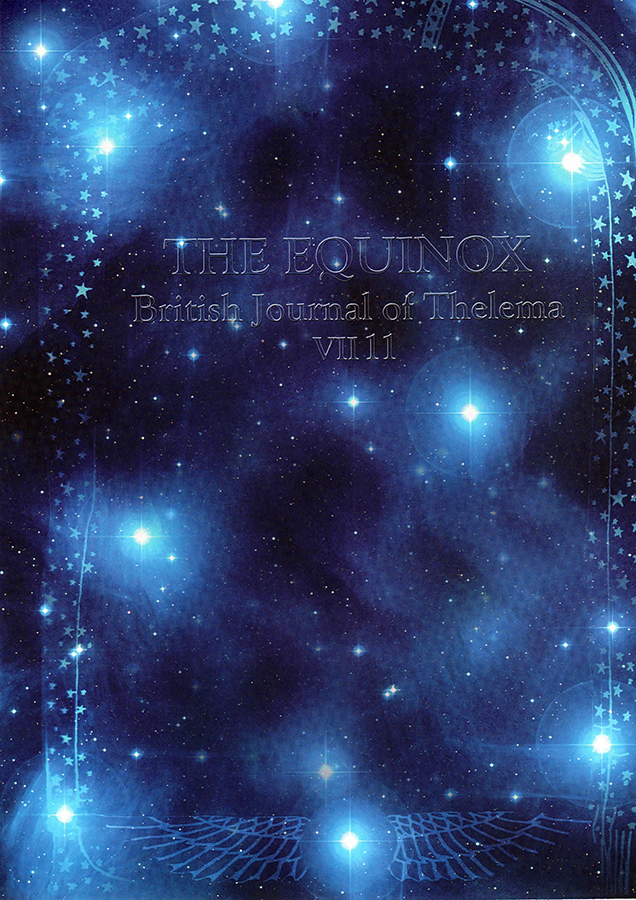 The Equinox: British Journal of Thelema VII Issue 11 (pdf)
THE CHOICE IS WHETHER TO RIDE THE WAVE, OR DROWN IN IT.
This title is available as a pdf.
Jake Stratton-Kent, Dis Albion, Erzebet Barthold, Eds.
ISSN 0953-7015
64pp. 210mm x 297mm.
Printed on white 100gsm paper.
with black endpapers.
Colour cover 250gsm silk card.
Full colour throughout.
Perfect bound by hand with cloth spine.
Our final issue returns to its roots with a wealth of EQ tables of correspondences relating to the Trees of Eternity as well as the third and last installment of Jake Stratton-Kent's Liturgical Approaches to Invocation & Evocation and a telling example of initiation by 93. Charlotte Rodgers graces our pages with a descriptive account of her creative blood-workings while Hugo Alverda reveals the shocking secret of the Rosy Cross. Ed Novum Grey provides us with a glimpse of the Good Society and describes the creation of a Pleiades shewstone. By request, we have reprinted a somewhat revised and expanded text of Erze's Loving the Dead, and Dis and Erze offer their thoughts on the changing of the guard.
From our Editorial: "You have in your hands the latest and last edition of The Equinox, British Journal of Thelema. Not, you will be pleased to hear, because the editors are retiring from the field. on the contrary, another larger and more comprehensive incarnation of this Journal will be superseding it: a Global Journal of Magick, details and banner title to follow.
The reasons for this change are complex and the Editors have considered them thoroughly.
Firstly, not only capitalism and terrorism have undergone globalisation; indeed, they have largely done so in response to cultural developments, and then taken the credit. Many have yet to adapt to this new situation, we do not intend to wait. Two thousand years ago, several major religions and magical systems underwent a powerful and enduring synthesis. while attributed to philosophical movements and major seats of learning this was the result of 'global' culture on the popular as well as intellectual level. The potential for such a synthesis has not emerged again until now. it is now not merely a possibility, it has become inevitable despite the indifference of secular learning and the distracted incomprehension of many in the west."
ISSUE 11 TABLE OF CONTENTS
CREATIVE MAGICK ISN'T JUST ABOUT GENITALIA
by Charlotte Rodgers
THE SECRET OF THE ROSY CROSS
by Hugo Alverda
LITURGICAL APPROACHES TO INVOCATION & EVOCATION III
by Jake Stratton-Kent
A PLEIADES SHEWSTONE
by Ed Novem Grey
LOVING THE DEAD REDUX
by Erzebet YellowBoy-Carr
THE GOOD SOCIETY
by Ed Novem Grey
THE ORDEAL X: INITIATION BY 93
by Jake Stratton-Kent
THE TREES OF ETERNITY
by Jake Stratton-Kent
THIS NEW AEON
by Dis & Erze